Futurmotive – Expo & Talks presented to the international audience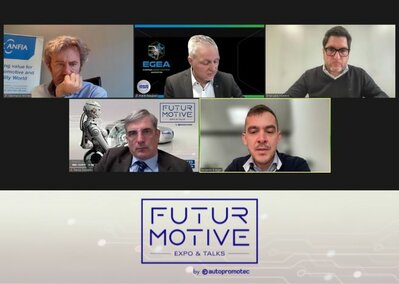 03/02/2023
Futurmotive – Expo & Talks
was presented this morning to the international audience through a digital meeting devoted to international press, trade associations and stakeholders and focused on the present challenges the entire mobility sector is facing. The representatives of the main European trade associations decided to share ideas and visions while talking about Futurmotive, the event that will take place on
16-18 November 2023 in Bologna, Italy
.
The webinar involved
Benjamin Krieger, Secretary General of CLEPA
, European Association of Automotive Suppliers,
Gianmarco Giorda, Managing Director of ANFIA
, Italian Association of the Automotive Industry,
Frank Beaujean, President of EGEA
, European Garage Equipment Association, and
Renzo Servadei, Managing Director of Autopromotec
; the discussion was moderated by
Emanuele Vicentini
, in charge of
international development for Autopromotec
.
After a brief introduction, Gianmarco Giorda presented Benjamin Krieger, Secretary General of CLEPA, who affirmed: "
The automotive sector, including aftermarket and repair, will see much change in the coming 10-15 years, driven by the twin transition towards sustainable and connected mobility. This transition cannot be mastered by individual stakeholders, it requires a concerted effort, in which industry and policy makers jointly ensure progress and mitigate risks. Automotive suppliers support climate-neutral mobility, but need the enabling framework in place, notably charging and refuelling infrastructure. Digitalisation urgently requires up-to-date rules to ensure thriving and competitive markets for new mobility services and products based on data
".
Then it was the turn of Frank Beaujean who, on behalf of EGEA, stated: "
I am very thankful to the organisers of the "Futurmotive" for offering an international platform in November this year to accompany the dramatic and fast transformation processes in our industry. The fair access to data is essential to keep our industry ongoing. The "sector specific data regulation" is addressed to balance the interest of all stakeholders in a fair manner – a very challenging mission. But also the technologic transformation to electromobility will impact the workshop-world of today and tomorrow. For example, lift solutions need to be adopted to enable workshops to repair and maintain the vehicles of tomorrow. I'm excited and look forward to Futurmotive – Expo & Talks which is an excellent opportunity to get an update on latest information, products and services and provide orientation to master the challenges".
Renzo Servadei, Autopromotec managing director, provided a brief overview to the audience: "
As we all know, one of the words that are most stressed in our time is "sustainability" and the automotive industry is put at the centre of this discussion. I believe that it is necessary to start thinking about sustainability in a broader way: it is a process that must certainly be addressed in terms of ecology, but also in terms of economy and community. In this context, as trade show organizers, we asked ourselves: what shall we do? How can we address such a complex issue? That's how we taught about organizing Futurmotive – Expo & Talks, the international exhibition for the future of mobility, for energy and ecology transition and innovation in automotive industry
".
Emanuele Vicentini, Autopromotec International Development, described in details the upcoming event and provided an overview of the international cooperation activities that will be carried out:
"For the development of Futurmotive - Expo & Talks we are working side by side with many associations and stakeholders who represent old and new segments of the automotive and mobility ecosystem; at the same time, thanks to the support of the Ministry of Foreign Affairs and Italian Trade Agency we will host industry leaders and buyers from more than 15 countries, it's going to be a real international event"
.
Exhibition & networking
During the three days of the trade show,
Futurmotive - Expo & Talks
will bring together participating companies in an exhibition space of approximately 25,000 square metres in Halls
14, 16 and 19 and in the 42 e 43
external areas
, showcasing a full range of technological innovations and solutions to address global challenges in the automotive world, in a format designed to foster an effective interaction among companies, institutions and industry opinion leaders. The main areas of interest will be alternative fuel systems, components, equipment, tyres and new materials. Ample space will also be devoted to the topic of remanufacturing and innovations related to the world of connectivity and service and repair networks.
The conferences
Innovators, technologists and institutions will alternate on the Futurmotive stage to outline the new routes of energy sustainability: not only new generation power plants, alternative fuels and raw materials procurement but also infrastructure and smart cities, human-machine interconnection for computerized car maintenance, big data management, cybersecurity, the transformation of business models and the labour market.
Did you miss the webinar? No worries, you can always watch
here